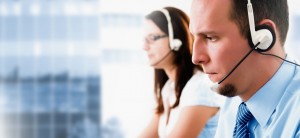 The Problem
A new and rapidly expanding Call Handling business was struggling to keep up with their administration using a mixture of manual systems and various software products.  This actually made it harder and more expensive to grow the business because of course 'time is money'. It also meant that the owners of the business and their staff were spending very large amounts of time performing manual processes when they could have been helping other customers or working on growing the business.
The old process for handling a simple call involved a number of steps:
The employee would answer the call in the name of the client's business and take down a note of how the call was handled and any message details on a piece of paper.
They would find the master message book, and enter the message.
They would go to the paper files to retrieve customer information such as email address and mobile number
They would open their email client and create a message manually before sending it to the client if email notification was required
If a text notification was required this would have to be manually keyed into a mobile phone and sent
A spreadsheet entry for the call information would have to be created
An entry in another spreadsheet for the financial information would have to be created
The employee was then ready for the next call
This process took too much training, took too long, was far too expensive, and by being so complex led to higher error rates than the management team would have preferred.
The Solution
Aided by their business adviser a review of the business was undertaken and it was agreed that Synergy should be installed and a specialist Call Handling Module should be created which should be used to provide the required functionality.  A specification was drawn up, and it was agreed that the module would be created and its features added in gradually over a period of time to enable staff to get used to the idea and to be able to prove each part of the solution as it was introduced.
The Results
Immediately upon installation significant benefits were seen, and as development continued still more capabilities and benefits were detected.
A single central on-screen form was used to replace the paper, books and spreadsheets leading to:
A greater than 95% reduction in the time taken to process call administration compared to the old manual operation
Virtual elimination of the initial training budget for new staff – handling a single dialog can be taught from start to finish in minutes with new staff becoming productive almost instantly.
Higher levels of customer satisfaction as a result of the introduction of automated despatch of message notifications and call digests
Increased market penetration and competitive advantage for the business as a result of the introduction of new products and services with features that were impossible using the manual system, such as:

allowing time based charging for services such as taking customer orders or providing customer support on behalf of their customers in addition to the standard per call service
providing  daily, weekly and custom call digests
providing detailed reports and analyses on request
being able to introduce new tariffs at will enabling negotiated and custom pricing for different service levels, customers, industries, etc.
fully itemised billing

Higher customer recruitment and retention levels as a result of  providing services that are difficult or impossible for competitors to provide but which are now simple for the user but highly valued by the customers
If you are in the Call Handling industry and would like more information on how your business can benefit from the use of Synergy and the dedicated Call Handling Module please contact us